Ice Fishing
Ice Fishing, Indiana. Indiana Ice FishingIce Fishing, Indiana
Indiana Ice Fishing
  Ice Fishing Indiana. Catching a few nice fish. 
**
**********************
Fishing The Hoosier
Hardwater
***************************
POST IT HERE:  Indiana Fishing Forums
This website last up-dated  March 06, 2014
 http://www.indianabass.co/IndianaBassForums/index.php
  Indiana Angler provides Indiana

 Ice Fishing Reports

 from all across the state.                            

 

I would like to add that the

 Indiana Ice

 Shanty also has some very

 good reports   

 
DNR urges publictobewareof'thin ice'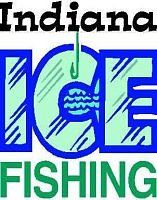 Every winter, thousands of Hoosiers enjoy fishing, skating, hiking or just sliding around on frozen ponds and lakes. And every year, people drown after falling through ice. 
As ice begins to form on many waterways, Indiana Conservation Officers with the Department of Natural Resources want citizens to put safety first. 
Here are a few tips to remember before going onto a frozen lake or pond:  
—No ice is safe ice.
—At least 4 inches of ice is recommended for safe ice fishing; 5 inches for snowmobiling.
—If you don't know, don't go.
—Wear lifejackets or flotation coats.
—Carry ice hooks and rope gear. 
Depending on conditions, ice can change from several inches thick to nearly open water within just a few feet. Flowing water, such as rivers and streams, should be avoided when covered by a layer of ice. Water surrounded by sand often freezes with inconsistencies. 
Wind, waterfowl and beavers can also keep areas of ice thin.  
Parents are strongly encouraged to closely supervise all activities their children participate in on our frozen waterways.  
When participating in any recreational activity on ice, partnering up is a must. This includes ice fishing. 
A fall into icy water can quickly result in the onset of hypothermia for the victim, which can lead to catastrophic consequences if not treated immediately. If you see a person fall through the ice, call 911 immediately with clear and concise instructions on the location of the victim. Attempts to rescue a victim should begin only after calling 911. 
Going into the water after the victim should be the last option in a rescue effort. 
Media contact: Lt. Bill Browne, DNR Law Enforcement, (765) 509-0207.
 from NOAA
For those of you that like to watch wildlife, the below links take you to
 live "Streaming" websites that show live images from their cameras.
 Some are better than others, so take your pick or look around.
Indiana Fishing Regulations for  2013-2014
__________**********__________
**********************
  Indiana DNR Fishing Reports have been
moved, and are now posted here. Click
here to view them. Indiana fishing reports.
******************************
We do thank our Indiana DNR for allowing us to share
 these fishing reports with you.
Indiana Fishing & Hot Spots Logo
******************
Indiana State Record Fish
For information about Indiana State Record Fish or Fish of the Year 
programs, go to Fishing.IN.gov/3577.htm. To find out where to
 fish, go to Fishing.IN.gov and click on the interactive "Where to Fish
 Finder" link.
 To purchase an Indiana fishing license online, see
Link takes you to BaitNet
Note: Windchill Temperature is only defined for temperatures at or below 50 degrees F and wind speeds above 3 mph. Bright sunshine may increase the wind chill temperature by 10 to 18 degrees F. 
Ice Fishing Indiana. Windchill Chart
****** 
Martinsville Indiana Recreation  
Indiana Fishing Quick Links
Copyright 1996-2014 © Indiana Fishing & Hot Spots
Martinsville Indiana 46151
Indiana Fishing & Hot Spots, it's creator, or it's moderators are not responsible for damage, loss, or injury resulting from the use of information contained on the pages of this site. Furthermore, Indiana Fishing Info, and it's creator assumes no liability for posts made by others and is not responsible for the accuracy, copyright compliance, legality, or decency of material contained in the posts Their posts are solely their opinions, and their responsibility. No part of Indiana Fishing & Hot Spots may be copied, printed, or reproduced in any manner, without written permission from it's owner.
~~~~~~~~~~~~~~~~~~~~~~~~~~~~~~~~~~~
This website contains some information obtained from the Indiana DNR and other government agencies controlling the described outdoor resources. However, this site is not sponsored by the state, any parks, or any other government agency. by the state, any parks, or any other government agency.